How Does Age Affect Your Penis?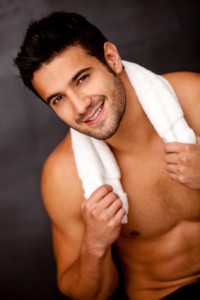 New York, NY – As we age, our bodies begin to look and act differently. Many men will begin to notice a difference in how their penis functions – a man's sexual desire tends to decline with age as his testosterone levels fall. Additionally, urinary function might decline due to weakened bladder muscles or an enlarged prostate. But does aging also affect how the penis looks?
"We can see visible signs of aging by looking in the mirror," says Dr. Elliot Heller, a NY plastic surgeon. "And unfortunately for most men, that aging travels down to the penis, as well. As you age, you'll begin to notice several changes to the appearance of your penis."
The first is a change in color. The flow of blood to the penis decreases as we age, which will change the color of the glans (head) from a purplish color. And as testosterone levels continue to decrease, men will also see a loss of pubic hair. In fact, the penis will gradually go back to its pre-pubescent, hairless state.
Additionally, the size of your penis will appear to change. As we age, we tend to gain more weight. And this weight gain will make your penis look shorter than it previously was.
"We've discussed penis size and weight before, and the fat pad that appears when we gain weight can make the penis look shorter than it actually is," says Dr. Heller. "But even if you aren't overweight, your penis may still lose a bit of its length. Over time, men can lose up to an inch or so in total length."
This shrinkage is due to atherosclerosis – the same condition that contribute to blockages in coronary arteries that can lead to a heart attack. There are tiny arteries in your penis, and over time, plaque can build up inside of them, inhibiting blood flow to the penis.
Inelastic collagen can also build up within the stretchy sheath of the erection chambers. When paired with the buildup of plaque, this results in smaller erections.
The penis also becomes less sensitive over time, making it harder to achieve erection.
"The good news is, though, that if you are feeling inadequate as you age, there are many solutions to help," says Dr. Heller. "Penis enlargement procedures have become very common, and can not only add size and girth to your penis, they can also add confidence in the bedroom."
If you aren't happy with the way your penis is aging, schedule a consultation with Dr. Heller today. He has pioneered penile enhancement procedures that offer amazing results. He even offers in-office procedures that take almost no time, and require little recovery. Call his office at 866-477-2023.
© 2015 Millionairium and Allure Plastic Surgery Center. Authorization to post is granted, with the stipulation that Millionairium and Allure Plastic Surgery are credited as sole source. Linking to other sites from this press release is strictly prohibited, with the exception of herein imbedded links.