Is Penis Enlargement Right for You?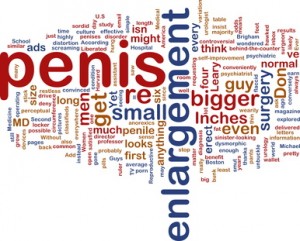 New York, NY – If you are a warm blooded male, chances are the thought of whether or not your penis is large enough has crossed your mind. If you're constantly obsessing over it, and wondering if penile enhancement surgery is right for you, we have some answers.
Let's Talk Size
Most men may wonder if they are smaller than average, but in most cases, they are probably right where they should be. The average erect penis is 5-6 inches long, with a width of approximately 4-5 inches. In reality, most men will fit into this range, but in some cases, genetics or hormone problems may result in a smaller than average penis.
"However, even if you are average size, you may still be bombarded by thoughts of inadequacy," says Dr. Elliot Heller, a NY plastic surgeon who specializes in helping men. "And those thoughts can affect your relationships and self-esteem. If that's the case, you may want to consider consulting a plastic surgeon who specializes in penis enlargement – we have a variety of options that might work for you.
While the results of the procedures vary from patient to patient, a one to two inch gain in length can be expected and if you opt for a fat transfer or Allograft Dermal Matrix Graft, you can expect up to a 30% gain in width.
The Procedures – Lengthening and Widening
You may not realize it, but about half of your penis length actually resides inside your body, anchored to the pubic bone by what is called the fundiform and suspensory ligament. If the ligaments are released, the penis, which sits in the body in a curvature formation, will then protrude on a straighter path. This will result in one to two inches of additional length on the outside of the body. Paired with a tension weight device, a maximum gain in length can be achieved from the penis enlargement procedure.
You may also choose to have a penile widening procedure performed, and for that there are a couple of options. Using Alloderm® Matrix, a thick sheet of tissue, Dr. Heller places it under the skin of the penis. This procedure can add up to 25-35% more width. And good news – Dr. Heller has pioneered a double layering procedure that results in maximum gains.
Another option is the use of fat transfers. Fat can be removed from another area of the body and then injected in the skin of the penis to increase the girth. There are no incisions or stitches required and this procedure can even be performed while you are awake. Results will be immediate and you can resume your normal activities the following day. And the fat that is harvested can be stored and used for additional procedures, should you choose to do so in the future.
Additional procedures that may result in a lengthened look for your penis include scrotal web release and a pubic lift and liposuction. During a scrotal web release, the attachment of the under surface of the penis to the scrotum will be released. This can make the penis look longer because it won't be tethered to the scrotal skin any longer. This can also be added along to a traditional penile enlargement surgery to create a maximum gain in length.
In some cases, a large pad of fat will rest on the pubic bone, which can hide part of the shaft of your penis. In order to maximize your penile lengthening procedure, it is best to remove this pad. You have two options to remove the pad – either surgery or liposuction. Your plastic surgeon will tell you during your consultation if you could benefit from having this procedure performed in conjunction with your enlargement surgery.
So how do you know if penile enhancement surgery is right for you? The answer varies from person to person, but if you find yourself constantly wondering if the size of your penis is adequate, if might be time to consult a plastic surgeon. If you have noticed your thoughts of inadequacy have begun to affect your self-esteem or personal relationships, don't wait any longer. A new, more confident you is just a phone call away.
© 2014 Millionairium and Allure Plastic Surgery Center. Authorization to post is granted, with the stipulation that Millionairium and Allure Plastic Surgery are credited as sole source. Linking to other sites from this press release is strictly prohibited, with the exception of herein imbedded links.