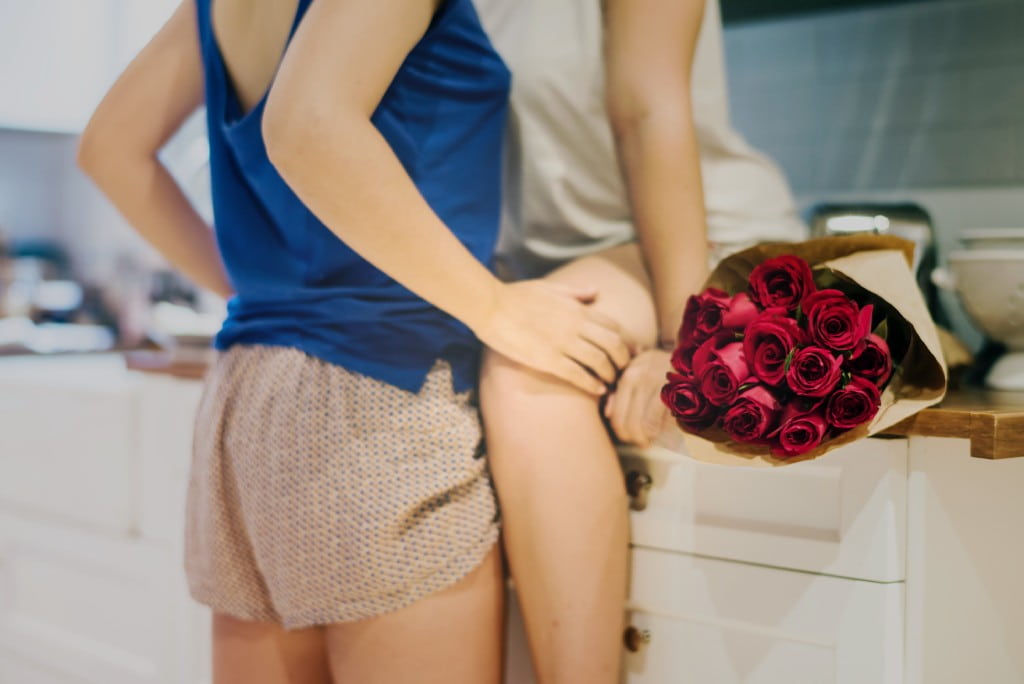 8 Reasons Why Penis Enlargement Fillers Are the Ideal Gift for the Man Who Has Everything
Men's Health recently reported on a woman named Jessica. She bought her partner a certain penis enlargement procedure for Valentine's Day. Referred to as non-surgical penis enhancement, the procedure calls for the use of dermal fillers to give the penis more width.
While the idea of giving a man the gift of penis enlargement may seem odd, Jessica told Malik, "Listen, this is your Valentine's Day gift. We're doing this."
However, she did add a caveat. By giving a gift of enhancement, Jessica was also doing something for herself. As she put it, "Half of it was for me, and the other half I had him in mind as well."
Renowned plastic surgeon Dr. Elliot Heller of Allure Plastic Surgery Center in New York doesn't think that giving the gift of male enhancement is a strange concept at all. In fact, he has seen an upsurge in men requesting non-surgical penis enlargement fillers. They want to add width to the penis. He says that he regularly sees an upsurge in penis enhancement procedures around Valentine's Day. Are many of those gifts from the men's partners? They very well could be.
As for Jessica and Malik, the couple claim the procedure "transformed" their sex life. Jessica adds, "It's definitely more satisfying." She then said, "It's like going from a pencil to a cucumber."
The reason guys opt for the procedure is clear. As Dr. Heller puts it, "In a single procedure, the average man can gain up to 1.75 centimeters in width."
So, this year, why not gift your man non-surgical male enhancement for Valentine's Day or some other occasion. Here are eight reasons non-surgical penis enlargement fillers are the ideal gift for the man who truly has everything.
1- Surge of Confidence
The primary reason many men opt for penis enlargement surgery is because of the lack of confidence they feel in the locker room and bedroom, said Dr. Heller. Many of his patients report feeling inadequate as they were forced to shower with other children in school and then as they grew older and faced undressing in front of sexual partners. For these men, something about having a perceived underdeveloped penis can take away from their sense of self-worth. A wider penis using non-toxic surgical fillers can give the man extra confidence in the bedroom and in all other areas of life.
2- Safe Procedure
Non-surgical penis enhancement is not surgery. It means the procedure doesn't come with all the risks we usually associate with surgery. Surgeons use no general anesthesia with transdermal fat fillers. The procedure is relatively safe with no scarring whatsoever left behind on the penis. There may be a small scar at the fat extraction site. However, your male enhancement surgeon will usually take precautions to ensure scars are mostly hidden or otherwise unnoticeable.
3- Side Effects of Penis Enlargement Fillers are Rare
Dr. Heller recommends taking the time to find a qualified surgeon to perform the non-surgical penile widening procedure. Doing so will decrease the chances of developing side effects, like lingering pain, or lumping of the penis enlargement fillers underneath the skin. A highly trained and experienced male enhancement surgeon will take special care to ensure optimal results without much downtime or unnecessary side effects.
4- Few Chances of Allergic Reactions
The FDA approves dermal fillers for the use of cosmetic enhancement, in the face, on the neck, and in the penis. These fillers use hyaluronic acid and other naturally occurring substances to promote healthy girth enhancement. Rarely do allergic reactions ever occur in otherwise healthy patients.
To eliminate the risk of allergic reactions altogether, Dr. Heller recommends dermal fat injections. The fat comes from your own body. It means your body is more likely to accept the penis enlargement fillers as natural. Each injection spreads the fat evenly over the shaft of the penis, enhancing its girth uniformly from base to tip. Dr. Heller also performs glanular enhancements for those who want a thicker penis head in addition to greater girth.
Glanular or head enhancement gives the penis a thicker shape all around, which he adds that many patients find more psychologically satisfying once the results have fully formed. Results after surgery can take around six weeks or more before the thicker girth is fully revealed with six months or more before sexual activity can resume.
5- More Pleasurable Sex
Once sexual activity does resume, the end result just might be transformative for all involved, as Jessica and Malik reported after his penis enhancement procedure.
We have long been told that sexual pleasure can be heightened purely through confidence in oneself and abilities. Greater penile width can boost that confidence, leading to more excitement between the sheets. The man's partners could also get a pleasure boost from the added girth, which might make penile enhancement the gift that keeps on giving for couples intent on adding more spice to the bedroom.
6- Penile Widening Can Be Repeated
Once the surgical procedure has healed and the true widening of the penis has been revealed, the dermal or fat filler procedure can be repeated for an even bigger girth boost. Dr. Heller has seen many of his patients return for multiple filler injection procedures. When patients opt for fat injections, Dr. Heller always retains slightly more fat than is needed for a single procedure, just in case patients want to return for another. While one series of penis widening injections may be enough to help the man reach his goals, more injections are possible if the man wants to go wider in the future.
7- A Natural Means to Penis Enlargement Fillers
Non-surgical enhancement using fat transfer is the most natural means we have for adding more inches to a man's penis. The fat is your own tissue, which, when spread evening across the penis, gives a very natural appearance. We can use penile widening to enhance results and improve the man's sex life overall.
8- Penis Enlargement Fillers are Becoming More Accepted
Times are changing with regards to male enhancement. While there may have been a stigma years ago, the shade is lifting off many of these safe and effective procedures. Women have had the option of breast enhancement for decades, said Dr. Heller. "Finally, men have a way to boost what nature endowed them with, and there are few side effects or downsides."
This Valentine's Day or other gift-giving holidays, why not consider non-surgical male enhancement as the ideal gift-wrapped present? It's the gift that keeps on giving and is available now at Allure Plastic Surgery Center, now serving all five boroughs of New York and some areas of New Jersey. Contact Dr. Heller today to inquire more and to request a free consultation.