Want to Look More Like David Beckham?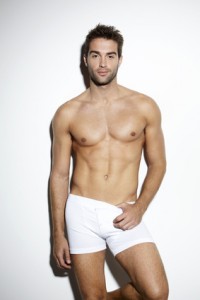 New York City, NY – David Beckham is best known as a soccer superstar, but in recent years he has become famous for something else. Revealing underwear ads have shown his substantial "package."
"It may sound silly, but a lot of men have been seeking out enhancement surgery since Beckham's underwear ads started airing," says cosmetic surgeon Dr. Elliot Heller. "Seeing the women in their lives swooning over the soccer star's looks have encouraged men to visit my office to talk about increasing their penis size or girth."
Women frequently site wanting certain features of their favorite celebrity when seeking out plastic surgery, and penile enhancement surgery is no different. If you can get Halle Berry's cheekbones or Kate Middleton's nose, why not David Beckham's penis size?
The popularity in phalloplasty procedures has increased in recent years as the stigma associated with plastic surgery has been lifted. And with David Beckham suddenly appearing on billboards and TVs everywhere in his skivvies, men who may have felt self-conscious about their own manhood are flocking to the surgeon's office.
"While I can't make you look just like Beckham, I can increase your size to make you more confident," says Dr. Heller. "The average penis enlargement surgery can add one to two inches in length, while a fat transfer or Allograft Dermal Matrix Graft can increase your width by up to 30 percent."
Most people don't realize that about half of the length of the penis is actually located inside the body. The suspensory ligament attached is to the pubic bone. When this ligament is released in surgery, the patient will see an increase in length outside their body. The longer the penis is to begin with, the more the gain could potentially be.
If you have spent years worrying if the size of your penis measures up, now is the time to consider phalloplasty. Dr. Heller is an experienced surgeon who realizes the topic is sensitive, so he treats each patient with sensitivity, guaranteeing confidentiality throughout the process. His patients are comfortable with him, and most importantly, love the results they achieve through Dr. Heller's procedures.
© 2014 Allure Plastic Surgery Center. Authorization to post is granted, with the stipulation that Allure Plastic Surgery is credited as sole source. Linking to other sites from this press release is strictly prohibited, with the exception of herein imbedded links.